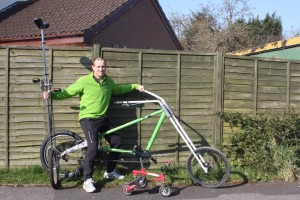 Name : Simon
Nickname : Beechy

Specialist Area : Turning sow's ears into silk purses.

Polo player : "Oh yes!"

Hobbies : (or what I do a lot of in my spare time) Fixing his 1955 Landrover after something else has broken or dropped off, or fixing someone else's bike in his garage.
Quote : "The secret is wanting what you have, not having what you want"

About : Simon has been cycling for far too long, fixing, building and riding various bikes from his 9ft unicycle to his 11ft long low rider. He is a co-founder of the Bikeshed when in February 2010 he answered a call to demonstrate his faith with action. Our core values states that any person can enjoy the full services of the Bikeshed regardless of there ability to pay – how many times have we received something so freely given.