Join us as we join in with the Big Bike Revival. Read more below or find an event near you at www.bigbikerevival.org.uk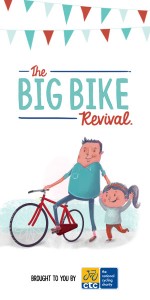 .
On-site mechanics will be on hand to make basic repairs and demonstrate how bikes can be maintained easily and quickly at home.
Those attending can also complete a short survey to be entered into a draw for the chance to win prizes like brand-new bikes, cycling accessory packs and annual
memberships to CTC.
Ian Richardson, Head of Development at CTC, said: "The Big Bike Revival is a great chance for people to get their bikes back out, have them fixed for free and find out how they can keep on cycling in their local area.
"Not knowing how to fix a puncture or replace a chain should not stop you from enjoying your bike. By going to a Big Bike Revival event, you will learn new skills and improve your confidence, all while having fun and meeting likeminded people."
The Big Bike Revival, being backed by former EastEnders and Love Actually star Martine McCutcheon, runs from 23 May – 7 June, with more than 1,000 events being held across England by almost 200 cycle centres.
A pilot project last October covered 10 centres in West Yorkshire, Greater Manchester and Liverpool and led to 317 bicycles being brought back into use.
Over 1,300 people attended the pilot events, with 28 per cent of those surveyed pledging to cycle at least once a week in the future.
Ian added: "With many of the events happening over the half-term holidays, we are expecting a lot of families to get involved in The Big Bike Revival – it is a great way to entertain the kids and spend some quality time together.
"We know from the pilot campaign that these events will be very popular and can prove really helpful for people wanting to get their bikes out again."