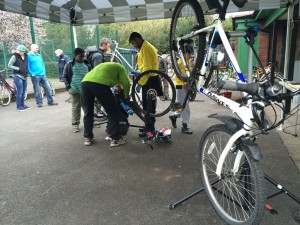 Wolverhampton Bike Shed is a community based project offering bicycle repair and recycling. We are a non-profit project run by volunteers and have been running since February 2010.
We are based at Bradmore recreation ground, Church Road, Bradmore, Wolverhampton.
We repair anything and everything from unicycles to tricycles.
We currently offer bike repairs, but in the future we also aim to start a bike club and a bike loan scheme.
We have received several donations of bikes and tools but we still need more so we can recycle bikes back in to use. If you can help, please Get in Touch.