Wolverhampton Bike Shed are keen to explore connections with all sorts of groups where we can make a difference, or promote the use of bikes as a sensible option for getting you from a to b. Here are a few organisations that we know of or have spoken to within the local area – if you want your organisation to also appear her, then do get in touch! There are always opportunities to work together for the good of our communities.
BikeRight!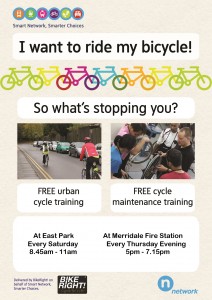 BikeRight! offer and deliver a range of free cycling activities, funded by the Smart Network, Smarter Choices Project;  a project aimed at helping people travel in a more sustainable way across the West Midlands. BikeRight! and Aecom are working in partnership with Centro and seven local authorities to provide free 'Cycle Smarter' activities – www.mynetwork.org.uk.  These activities are available to the general public aged 16 and above who live, study, work or use a station in certain areas of the West Midlands as part of the Smart Network, Smarter Choices Project.
Free cycle training is available in different locations around the West Midlands, covering levels from learning to ride from scratch, up to beginner, and advanced road riding. More details and to book a place can be found at www.bikeright.co.uk/westmidlands. Bikes can be provided.
Other free activities are available across the West Midlands including; maintenance classes, route planning, journey accompaniment, bike safety checks and led rides all to help you make more journeys by bike.
For a list of dates and locations where you can catch the BikeRight! team in 2014, look no further than this PDF black country community dates feb – october.