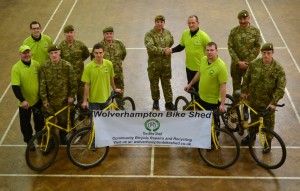 The 4th Battalion The Mercian Regiment based in Fallings Park, Wolverhampton, have donated their old fleet of mountain bikes to the Wolverhampton Bike Shed. Major Richard Slaney, Quatermaster of 4 MERCIAN , presented the bikes to Simon Beech of the Bike Shed.
Wolverhampton Bike Shed is a community based project offering bicycle repair and recycling. We are a non-profit project run by volunteers operating since February 2010 and supported by public donations of time, money, bikes, old bike parts and tools.
Anybody is welcome to come along to the Wolverhampton Bike Shed every other Saturday morning when you can drop in for our free bike repair service at Bradmore recreation ground on Church Road. If someone wants to watch and learn while the repair is carried out, then the Wolverhampton Bike Shed volunteers are more than happy to show how it is done. All of our thirteen volunteers work under the guidance of trained bike mechanics.
Wolverhampton Bike Shed also recycle donated bikes where possible to be offered to the public for a donation to Bike Shed funds. Donations of both bikes and funds are essential to keeping the project in a position to purchase consumable parts, like tyres, brake pads and cables which are then used to bring bikes back to life. Some of the bikes are used for bike polo, which the Wolverhampton Bike Shed volunteers like to play when they're not too busy repairing and recycling bikes. We're always looking for new players to join in!
If you have a bike you'd like to donate, just get in touch via phone or e-mail and if you cannot bring the bike to the Shed, We'll happily collect any evening to suit you.