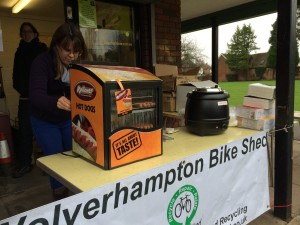 We want to say a big thank you to all our volunteers who have helped us in 2015.  This year you have helped us run about 40 repair sessions at both Bradmore and All Saints. We say 'about', as we lost track counting!  You also helped us to run some amazing sessions with young people who had anger management issues, as well as running stalls at fêtes at a number of places.
It was great to share hot dogs and soup with you and our customers this Saturday.
Thank you!
There won't be any more sessions in 2015 as our volunteers have a rest and get involved with family things over the Christmas and new year period.
Our next session will be at Bradmore on February 6th 2016. We'll be back to help you get on your bike and get on with life.